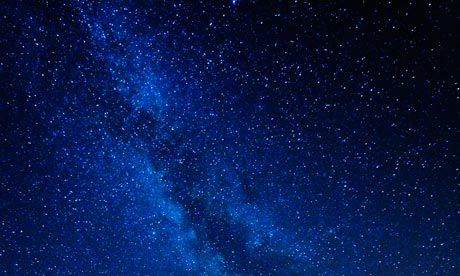 Although there is nothing unusual about gazing up at the sky and pondering the mysteries hidden within the stars, there is something impressive about being able to understand and explore them.
The Southern Oregon Skywatchers, an amateur club dedicated to bringing astronomy to the community, give people the chance to indulge their curiosity by participating in telescope building projects, public star parties, and listening to various speakers discuss the wonders of the universe.
Jessica Vineyard, also known as "Ms. Galaxy", founded the club in August of 1993 with the purpose of sharing her love of the night sky with the community.
The club meets every third Wednesday at the North Medford High School Planetarium, and holds discussions on interesting astronomical phenomena. Although events are free and open to the public, the club strongly encourages individuals to become members, which costs $20 a year and offers additional benefits.
Keeping ideas fresh and interesting, the club occasionally invites guest speakers to present on different topics. On Feb. 22, from 7 to 9 p.m., at the North Medford High School Planetarium, a special guest, Professor Richard Pugh, from the Cascadia Meteorite Laboratory at Portland State University, will be discussing meteorites, even bringing samples of the extraterrestrial rocks to keep things interesting.
The American Meteor Society confirms that anywhere between 12 to 50 meteor dropping events occur each day, however most go unsighted.
According to Vineyard, every square mile of Earth's surface contains at least one meteorite.
Vineyard added that six meteorites have been discovered in Oregon, most notably the Willamette Meteorite, the sixth largest in the world, which is thought to have landed in a glacier in Canada thousands of years ago. Floods from the last ice age are projected to have carried it down into the Willamette Valley, where it was discovered and acquired by the American Museum of Natural History in 1906.
The Skywatchers' "Star Parties" allow individuals to explore the wonders of the night sky on a more personal basis. Held on the Saturday nearest the new moon, the parties are an opportunity for individuals to observe the stars using a specialized collection of equipment in a remote location, where the sky can be viewed clearly in its most pristine state.
The next party will be held on Saturday, Feb. 11 at dusk. The location is held at a "winter observing site" the exact address of which can be found at the SOS website: http://www.orskywatchers.org.
Also found on the website are current sky reports for the Rogue Valley area, astronomy news, and other resources that are easily available to anyone who is a die-hard fan of astronomy, or is simply curious about the subject. According to Vineyard, this is exactly what the club takes pride in.
"My passion is making it accessible, understanding, and entertaining to anyone," she said.